So tasty  and so easy to prepare Bread Pudding, there is no way to be simpler nor easier. It is filled with cinnamon and nutmeg this makes the perfect breakfast or dessert recipe. There is no weird ingredients, nothing that you cant find in your own pantry of fridge. It is literally just that simple that there is no reason why you wouldn't want to whip it up.
Really this can be made from a various amounts of different breads, but French has always been our go-to along with Texas toast, its a thicker bread and you are able to cut it to the size you like
HOW TO MAKE BREAD PUDDING:
PREHEAT OVEN TO 350.

SPRAY A 9″X13″ BAKING DISH WITH NON-STICK COOKING SPRAY.

CUT BREAD INTO 1″-2″ SQUARES AND ADD TO LARGE BOWL.

IN ANOTHER BOWL WHISK TOGETHER YOUR MILK, CREAM, EGGS, SUGAR, VANILLA, CINNAMON AND NUTMEG UNTIL COMBINED.

POUR OVER BREAD AND STIR GENTLY TO COAT, LET SOAK FOR ABOUT 20 MINUTES.

SPREAD INTO BAKING DISH AND BAKE IN OVEN FOR ABOUT 50-60 MINUTES UNTIL CENTER IS SET.
 
Now to tell you the truth, as much as the ration of eggs to milk and spices is important to the perfect bread pudding, so is the bread pudding sauce.
I am not the type to eat a bread pudding without the sauce, and I probably won't ever provide you a recipe without a bread pudding sauce to go along with it.
I mean they just go hand in hand together so here you go!
HOW DO MAKE BREAD PUDDING SAUCE:
IN SAUCEPAN WHISK TOGETHER SUGAR, FLOUR AND HEAVY CREAM UNTIL COMBINED.

ADD IN YOUR BUTTER AND HEAT ON MEDIUM UNTIL BUTTER MELTS AND LIQUID STARTS TO BOIL.

WHISK UNTIL THICKENED SLIGHTLY THEN REMOVE FROM HEAT AND STIR IN VANILLA.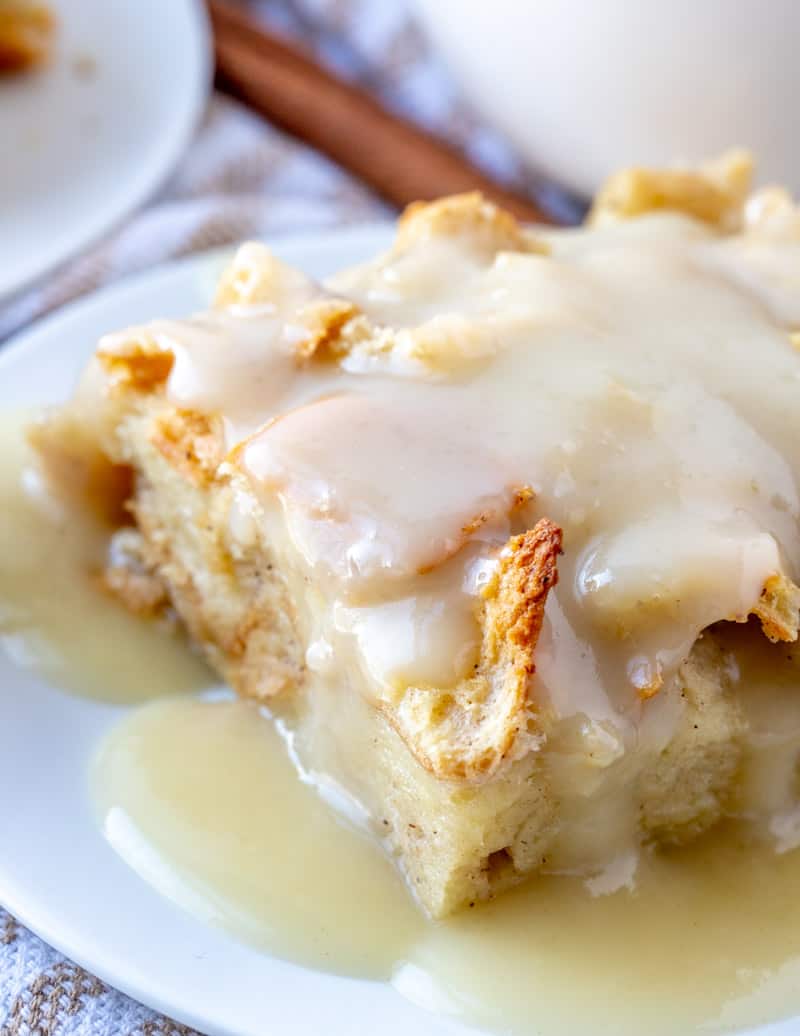 This sauce is super easy, and super addictive. I load my bread pudding slices up with the sauce because obviously it's just my favorite and it is my go to vanilla sauce for a lot of different desserts.
If you are looking for that perfect bread pudding recipe, look no further, you have found it. Quick, easy and simple this is one classic recipe that the whole family will love!